Rolling Freedom Motorcycles & Lake Tahoe Slingshot Rentals. Licensed. Bonded. Family-Owned. Come visit Lake Tahoe's only Motorcycle, Slingshot, Scooter and Fat Tire Electric Bike Rental Shop.
Licensed. Bonded. Family-Owned Motorcycle, Slingshot, Scooter and Hyper Electric Bike Rentals at Stateline Lake Tahoe
Rolling Freedom Motorcycles & Lake Tahoe Slingshot Rentals
We are a local family-owned business conveniently located in the heart of South Lake Tahoe on the Nevada side, just a short walk from the Stateline casinos and Heavenly Resort on Highway 50 at Kingsbury Grade.   We have purposely selected 2 wheel motorcycles, 3-wheel slingshot motorcycles, mopeds and electric bicycles that will allow EVERYONE to enjoy the Lake Tahoe riding experience.
Motorcycle Rentals: We feature Harley-Davidson, Indian, Ducati, Triumph, and Honda motorcycle rentals for riders who have a motorcycle "M" endorsement on their license.
Polaris Slingshots, Scooter Mopeds & Moto-Style Electric Bike Rentals:  We are also proud to rent premium 2 & 4 Seat Polaris Slingshots, Honda Ruckus moped scooters, and Juiced Scorpion & Scrambler fat-tire electric bikes which don't require a specialized license.  We look forward to seeing you at Tahoe's ONLY motorcycle AND Slingshot rental shop at the Lake.  #RollTahoe
Bear's Lair Tahoe
August 8, 2022.
⭐️⭐️⭐️⭐️⭐️ Love the custom lights in the 4 seater slingshot! Super close to everything in South Lake!
Kyle Shepherd
July 2, 2022.
Our first time visiting Tahoe and we rented the 4 seater slingshot for Father's Day! It was such a wonderful experience for my husband, myself and our 2 kids. The customer service was absolutely out of this world; we all felt very safe, comfortable and well taken care of by the entire staff. Highly recommend this sweet family owned business anytime visiting Tahoe!
Robin Kratz
June 25, 2022.
Had an amazing road trip around Lake Tahoe and into the little town of Genoa on the XG750 Harley Davidson. It was an experience of a lifetime, was invigorating to the senses, the views, the fresh air was wonderful. The ride was comfortable and smooth on the Harley. Matt the owner was very personable and helpful. The cost was affordable and well worth the adventure. Thank you Matt for making this experience the highlight of our vacation. Definitely worth doing again in the future!
Amanda Wood
June 22, 2022.
Had an amazing time! It was great to see the lake in the open air! Amazing views and once in a lifetime experience! Highly recommend! Nicole helped us out. She was so sweet and very knowledgeable. Everyone there was so nice and friendly! Would come back again if we visit Lake Tahoe!
We rented an Indian scout 60 and rode around LakeTahoe. It was a great experience! Made several stops along the way to take pictures and have lunch. My husband and I rode on the bike. Easy rental and return. Highly recommend this business.
tammy mapes
June 8, 2022.
What an awesome experience. Driving around Lake Tahoe on a Harley Davidson Street Glide. Great service and even helped us map out our airtinery. We definitely recommend them!
Mattias saati
June 4, 2022.
I would recommend this place to everyone. The owners are some of the nicest and most personable people I have met in a long time. Me and my fiancé rented the harley street 750 and had a blast. The bike was in great condition. They have a reasonable selection that could a accommodate most every rider. The overall experience was so great I was happy to give them my money. If in or around tahoe and you want to rent a motorcycle this the place!
Matt Spurlock
May 24, 2022.
Have you ever been one of those places where you kind of want to be friends with the people that work there? No? Well stop what you're doing and rent from Rolling Freedom. It IS that kind of place! This shop heartily avoids being "just another Powersports rental place" primarily on the merit of the folks who work there. They genuinely want to make you feel as comfortable as possible and go WAY out of their way to do so. I've always loved slingshots and wanted to rent one. Getting one in Tahoe goes without saying and frankly if you're reading this, you already know you should do it. It's the best way to see the sights from land. But truly it's the people that make the difference. And these people are so friendly and accommodating, I want to rent again just because of the them! Stop throwing money in the casino and go do something you'll never forget!
Rolling Freedom Motorcycle Adventures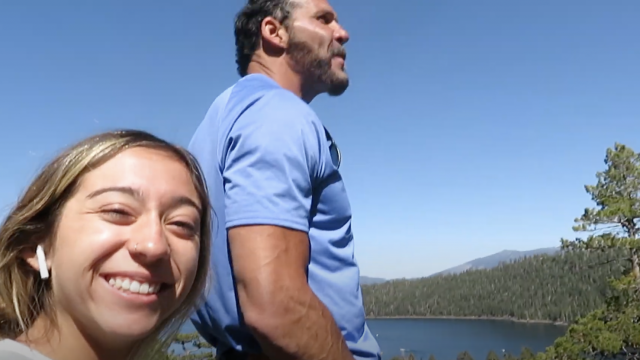 The Most Fun You Will Have in Lake Tahoe on 2 or 3 Wheels in the Open Air!
Ready to Cruise Lake Tahoe?
Motorcycle, Scooter, Electric Bike and Slingshot Rentals at Stateline Lake Tahoe