Rolling Freedom Motorcycles & Lake Tahoe Slingshot Rentals. Licensed. Bonded. Family & Veteran-Owned. Come visit Lake Tahoe's only Motorcycle, Slingshot, Scooter and Fat Tire Electric Bike Rental Shop.
Licensed. Bonded. Family-Owned Motorcycle, Slingshot, Scooter and Hyper Electric Bike Rentals at Stateline Lake Tahoe
Fat Tire Electric Bike Rentals
Rolling Freedom Motorcycles & Lake Tahoe Slingshot Rentals
We are a local family & veteran-owned business conveniently located in the heart of South Lake Tahoe on the Nevada side, just a short walk from the Stateline casinos and Heavenly Resort on Highway 50 at Kingsbury Grade.   We have purposely selected 2 wheel motorcycles, 3-wheel slingshot motorcycles, mopeds and electric bicycles that will allow EVERYONE to enjoy the Lake Tahoe riding experience.
Motorcycle Rentals: We feature Harley-Davidson, Indian, Ducati, Triumph, and Honda motorcycle rentals for riders who have a motorcycle "M" endorsement on their license.
Polaris Slingshots, Scooter Mopeds & Moto-Style Electric Bike Rentals:  We are also proud to rent premium 2 & 4 Seat Polaris Slingshots, Honda Ruckus moped scooters, and Juiced Scorpion & Scrambler fat-tire electric bikes which don't require a specialized license.  We look forward to seeing you at Tahoe's ONLY motorcycle AND Slingshot rental shop at the Lake.  #RollTahoe
tammy mapes
June 8, 2022.
What an awesome experience. Driving around Lake Tahoe on a Harley Davidson Street Glide. Great service and even helped us map out our airtinery. We definitely recommend them!
Mattias saati
June 4, 2022.
I would recommend this place to everyone. The owners are some of the nicest and most personable people I have met in a long time. Me and my fiancé rented the harley street 750 and had a blast. The bike was in great condition. They have a reasonable selection that could a accommodate most every rider. The overall experience was so great I was happy to give them my money. If in or around tahoe and you want to rent a motorcycle this the place!
Matt Spurlock
May 24, 2022.
Have you ever been one of those places where you kind of want to be friends with the people that work there? No? Well stop what you're doing and rent from Rolling Freedom. It IS that kind of place! This shop heartily avoids being "just another Powersports rental place" primarily on the merit of the folks who work there. They genuinely want to make you feel as comfortable as possible and go WAY out of their way to do so. I've always loved slingshots and wanted to rent one. Getting one in Tahoe goes without saying and frankly if you're reading this, you already know you should do it. It's the best way to see the sights from land. But truly it's the people that make the difference. And these people are so friendly and accommodating, I want to rent again just because of the them! Stop throwing money in the casino and go do something you'll never forget!
Tom Zanutto
May 20, 2022.
We had the most Wonderful experience with this business and would Definitely do this again!! Nikkii was very professional and helpful with everything! She went above and beyond to make sure we were comfortable with the bike and the accessories we chose. She even followed up the next day with a phone call, making sure that our experience was all that we hoped for, and it was 👍🏻We rented a Harley Davidson motorcycle and drove all the way around Lake Tahoe, stopping for lunch and photos at Emerald Bay. Very affordable day trip! Upon returning the bike, we got to meet owners, Matt & Sena. Both very Wonderful People!! We rate this business & experience a 10 out of 10!!
Jennifer vasquez
May 17, 2022.
Had a wonderful experience! My husband and I were in Lake Tahoe for vacation and decided last minute to rent a bike. My husband has a ton of experience riding bikes but I was a newbie and VERY nervous about being on the back of a bike. The owners and sales person were so patient and took the time to walk me through all the different bikes. They were so sweet and really took my concerns into consideration. We ended up riding the Harley Road King which was a great fit for my husband and I. Great experience and will definitely be coming back!! They have so many options for all levels.
Andrew Botten
April 19, 2022.
Amazing experience riding around lake Tahoe. Had a great rental experience.... Very fair people to deal with who obviously strive to build good relationships. When a small problem developed they immediately made it right and even phoned later to check on the situation and went above and beyond. No hesitation to give a good recommendation.
With all my trips to Tahoe my latest will always be the one that stands out the most. I only wish I would have done this sooner! I had the Indian Scout and it was a perfect bike for the switchbacks and the guardless climbs! It was smaller but nimble. Some of the parks like Emerald Bay and Tahoe Nevada State Park were already starting to get crowded with cars -- being able to stop or park. With the motorcycle I was able to pop in and out where cars couldnt fit. I was able to skirt car jams as well. Because it was spring I started late to make sure the temp was around 60 and roads were dry and clear of shaded ice -- I was skiing the day before! Next time I would try to get it for a few days to go to some of the small towns for food and exploring -- maybe an inside excursion to Truckee or some of the southern mountain passes. So none of this would have been possible without the help of the husband and wife team that own the shop. I had the priviledge of meeting Matt (a 20+ year Navy pilot vet) and his incredible wife, Sina. Two people that have served, and continue to serve (part of the proceeds from each rental go back to Vet services). If you think a motorcycle might not be your thing, they have electric bikes and scooters for seeing more of the local scene, and slingshots for more than 2 wheels on the ground. (a heads up as a long time cycle rider -- where 28 on the Nevada side meet 50 the traffic was fast -- over 70mph and it seemed like everyone had oversized pickups and SUVs-- on a two-lane curvy on-coming traffic road -- I stayed to the far lane -- not my thing coming around a curve with nothing separating me and oncoming traffic -- might avoid that next time). But look at all the reviews here -- they're all consistent on how fun and for me life altering experience this was! A gift I thought is an incredible idea and would have gottem me here sooner! Thanks Matt and Sina and wonderful Cali see you soon!
Maknoon & Associates, LLC PGH
October 3, 2021.
Matt, Sina, and Phil were the best! Honest, sincere, and went above and beyond. Bikes in great condition and they were meticulous in their inspections prior to renting. I rented 3 bikes: Triumph Tiger, HD Road King, and Indian. Wanted the full experience. Never was on a dual sport and LOVED it. The Road King was bomb proof on the highway to Carson and outlying areas. And the ride around the lake and to Mount Rose on the Indian was breathtaking. You have to do the lake and you will be blown away in the Emerald Bay stretch. The rides were easy for intermediate but PLENTY exciting to get your adrenaline pumping through the turns for advanced. I will definitely be back because I trust their advice, bikes and they because they are great people. And of course to ride around that lake and the mountains. If you ride and are in the area, you are crazy not to see them. Not a complicated process. It was the trip of a lifetime. And would be a blast on any of the bikes they have. See you guys next year!
Bill Ferrall
September 28, 2021.
Could not have been easier to get the bike, and for sure the ride around Tahoe is one of the best rides in the country! Matt and Sena were terriffic from the reservation to the return! They went above and beyond to allow a later return! Great people, fantastic service and a quality motorcycle...Thank You!
Rolling Freedom Motorcycle Adventures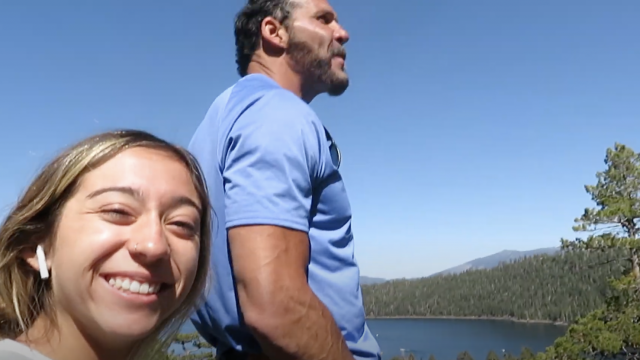 The Most Fun You Will Have in Lake Tahoe on 2 or 3 Wheels in the Open Air!
Ready to Cruise Lake Tahoe?
Motorcycle, Scooter, Electric Bike and Slingshot Rentals at Stateline Lake Tahoe