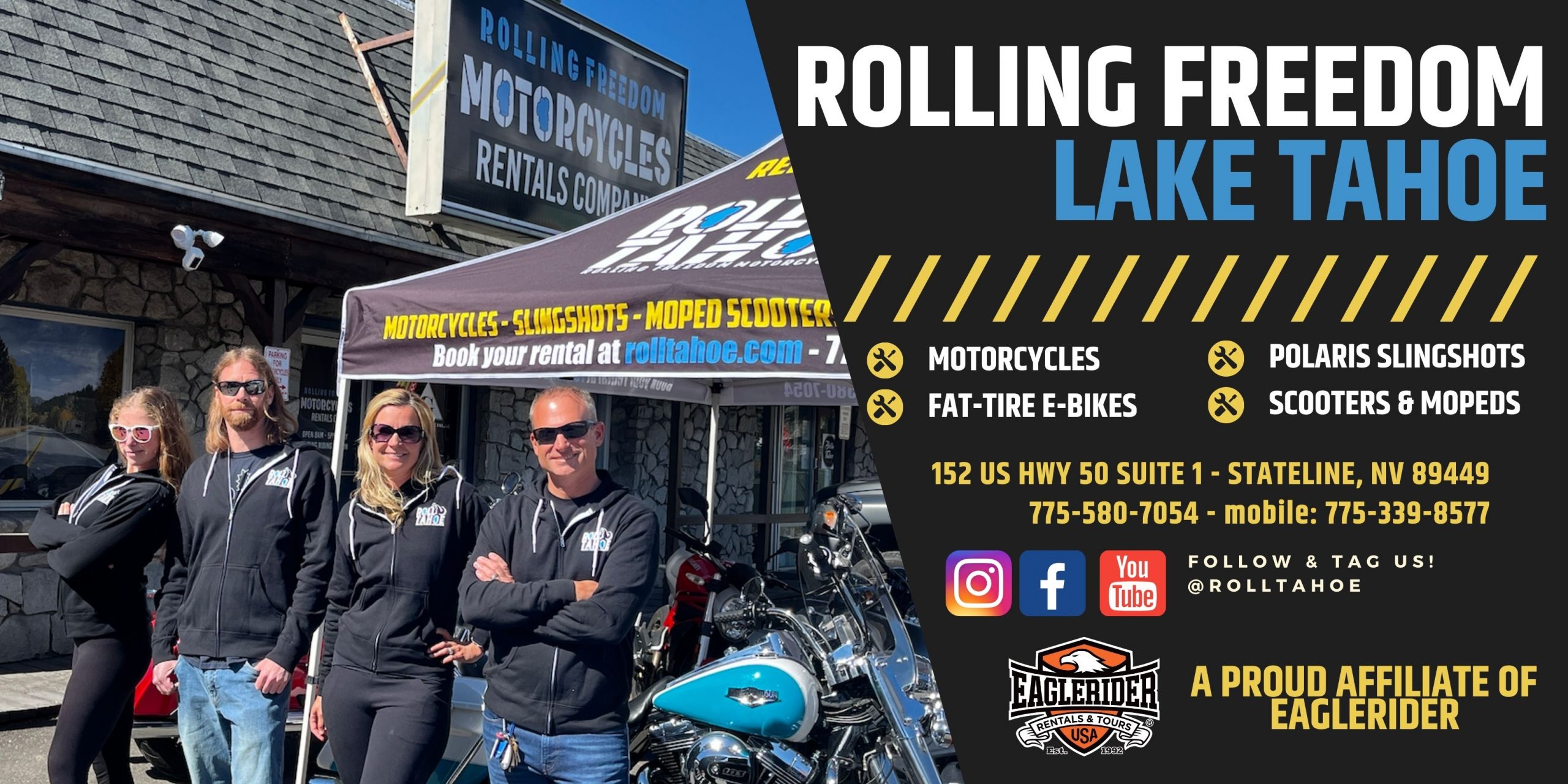 We have a passion for motorcycles on 2 or 3 wheels!
We also love Lake Tahoe!  So much so, that we bought our new home in Zephyr Cove.  Back in September 2020, when we came to look at our new home and do inspections, it was absolutely gorgeous outside.  We were bummed that we didn't bring our own Harley Davidson Street Glide up from San Diego.  We tried looking everywhere to see where we could rent a motorcycle to take a day trip around the lake.  The nearest motorcycle rental company was over 3 hours away!  Lake Tahoe has some of the most scenic roads in America.  We couldn't believe there was nowhere to rent motorcycles.  Our passion for scenic drives and the thrill of motorcycles motivated us to start Rolling Freedom Motorcycles Lake Tahoe.  We are a veteran owned business and have an appreciation for those who serve our country and the community.  We both come from military families.
About our business:
We have purposely selected bikes that will allow EVERYONE to enjoy the Lake Tahoe riding experience.  We feature Harley-Davidson, Indian, Ducati, Triumph, and BMW motorcycles for those who have a motorcycle "M" endorsement on their license.  We are also proud to rent 2 & 4 Seat Polaris Slingshots, Honda Ruckus moped scooters, and Juiced Scorpion & Scrambler electric fat-tire electric bikes which don't require a specialized license.  We are looking forward to our second riding season and hope you will enjoy a different perspective of Lake Tahoe.  Come #RollTahoe with us!   
– Matt & Sina
About Matt:
Matt is a Navy Veteran and retired in 2014 after 20 years of service.  As an aviator and TOPGUN graduate, he spent a lot of time flying just a short distance away from Lake Tahoe at NAS Fallon.  During his time in the Navy, he made several combat deployments in the E-2C Hawkeye, accumulating over 1300 flight hours and 300 + arrested landings, aboard several aircraft carriers.  Since retiring from the Navy, Matt has worked and consulted in cybersecurity to improve the readiness of the national cyber mission forces.   He has fond motorcycle memories of riding his Harley Davidson while stationed in Japan, making a cross-country ride with fellow veterans to the last Rolling Thunder event in 2019 in Washington, DC.
About Sina:
Sina was a civil servant for the U.S. government for over a decade where she supported military operations, including a 4-month combat zone deployment to Balad Air Base in Iraq with a special operations task force during Operation Iraqi Freedom.  Sina led several teams at the Pentagon and the National Counterterrorism Center, and served at the White House on the Disclosures Task Force and as Director on the National Security Council Staff.  She is a respected expert and author in national security, intelligence, and counterterrorism, and currently works as a senior researcher for these topics at the RAND Corporation.  Sina loves exploring new places and riding around in the open air on motorcycles with her other half.